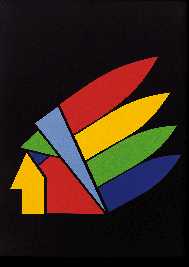 "Den Amerikanske Indianer" (The American Indian) was originally a painting.
It was made after a trip to Canada.
I got the direct inspiration for the painting in The Canadian Rockies. More precisely in the town of Banff.
I was staying at the famous Banff Springs Hotel.
Early one morning I went for a walk in the park. There I met the Indian.
He was carved in contour on a bench. He had this marked, clear-cut profile.
When I am travelling, I always bring back some typical handicraft.
Some lacquerwork from Japan.
Some jars and wood cuttings from China.
Some objects created by aborigines from Australia.
In terms of form and colors, my greatest source of inspiration is Indian jars and, not least, Thunderbirds.
The painting is painted in bright colors on a black background in acrylic on a canvas of 201 x 139 cm in size.
The painting is framed in a very simple silver-plated wooden frame. See Exhibition III - paintings.
---