NEW FOREST -

GRAPHIC DESIGN, POSTERS
The Folketing (the Danish parliament) has decided that over a number of years Denmark is to have twice as much forest as it currently has.
The aim is to improve the environment and people's well-being.
In order to market this idea I have made a series of posters for the Danish Ministry of the Environment and Energy. Here 3 of the posters are shown.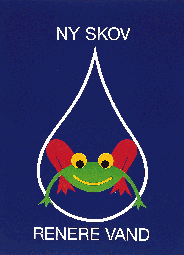 On the poster "NY SKOV - RENERE VAND" - NEW FOREST - PURER WATER I have used a humorous angle, as I have placed a stylized cheerful frog in a drop of water.
The drop of water and the frog symbolize both purer drinking water and purer water in the frog's small ponds, etc.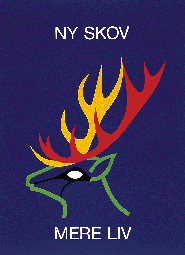 In the motif "NY SKOV - MERE LIV" - NEW FOREST - MORE LIFE with the red deer I have used the same colors, but here I have concentrated on showing the proudest animal of the Danish forests in a new version.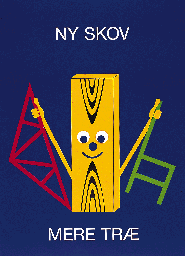 "NY SKOV - MERE TRÆ" - NEW FOREST - MORE WOOD symbolizes the commmercial utilzation of the forest. The wood can be used for something. Here for houses and furniture.

On posters in general:
At the request of Dansk Plakatmuseum (Danish Museum of Poster Art) all new posters are sent to the museum where I now have one of the largest collections.
After a French visit to Dansk Plakatmuseum's Cassandra exhibition, I received a letter from Mairie de Paris, Direction des Affaires Culturelles, Thierry Devynck:
I am deeply impressed by the quality of the works which you have created and which Peder Stougaard of Dansk Plakatmuseum in Aarhus showed me. In particular, he showed me a poster which, as far as I remember, was entitled "Landmandsliv - en kunstart" (Farmer's Life - An Art Form). The drawing is at once full of charm and permanence. Would it be possible for Bibiloteque Forney to acquire a collection which is representative of your work? I would really like to include your work in our collections, etc., etc.
A collection was subsequently sent to Paris.
Thierry Devynck is now working with the Danish Ambassador in Paris on launching a promotion of my work.
---