SOFT FURNISHINGS - TEXTILE DESIGN

The thread was spun in England, in Manchester.
The rest was made in Denmark
The fabric was woven and printed at the enterprise VEJTEX.
I am showing 3 designs: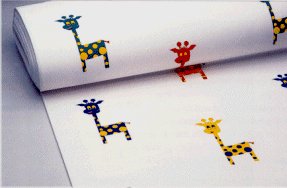 LANGE-SØREN (TALL CHARLIE)
LANGE-SØREN is a giraffe.
He has a long career behind him. He started his career as a children's book character.
He was then published on post cards as light blue with dark blue spots and was sold at FORMLAND at the Herning Fair Centre.
He was then published as a poster where he was yellow with blue spots.
He was a model in "Barnets Bog" (Child's Book) where he was also yellow with blue spots, and he was used to illustrate the height of a child.
As some people have associated his spots with cheese, he is displayed in an original cut at ARLA in Vejle.
He was somewhat honoured when he, green with yellow spots (and red shoes!), advertised for the shoe chain Din Grønne Skobutik's 120 shops on 2 million plastic bags. In this connection he was also portrayed on posters and greetings card. And the chain's wrapping paper was green with yellow spots.
The height of LANGE-SØREN's career has now been reached. He is being portrayed on miles of fabric at VEJTEX. In several color combinations.

The design entitled BROADWAY (or NEW YORK)

The idea behind this design is to depict the motif diagonally across the curtain.
Just as the theatre street Broadway in New York runs diagonally across the city's otherwise ruler-straight streets.
I was in New York this summer. I visited the Museum of Modern Art, Guggerheim, and saw all the attractions you have to see in New York.
On Broadway I ate a delicious meal in an Irish restaurant full of atmosphere.
And I saw Andrew Lloyd Webber's musical CATS at the Wintergarden Theatre on Broadway.
A great experience.
Colorful and still with a slight tightness of form.
Like the design BROADWAY.

The design entitled MONTMARTRE (or PARIS)
Montmartre is the artists' quarter in Paris.
I have been there.
So have Picasso, Matisse, Cézanne, Braque, Gris, Miró, Max Ernst, Paul Eluard, Jean Arp, René Magritte, ¨éger, Klee, Tolouse-Lautrec, Monet, Renoir, Sisley, Pissarro, Degas, Signac, Seurat, Gauguin, Chagall, Dalí, Tanguy and Van Gogh.
In MONTMATRE they sought their inspiration.
In MONTMATRE they lived their more or less chaotic lives
In MONTMATRE they painted and exhibited their famous works of art.
It was my intention that the basic picture in the MONTMARTRE motif was to be able to stand alone as a work of art.
A work of art which, by being placed next to each other many times, becomes a beautiful pattern.
---