TELEPHONE IN EARTHEN COLORS

- GRAPHIC DESIGN, COLOR SCHEME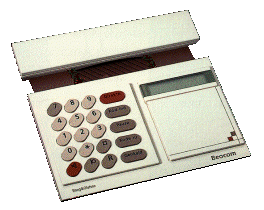 I work mostly in bright colors.
As an example of my ability to work in other colors than bright colors, I am showing an earth-colored telephone.
Bang & Olufsen saw my design at the annual Designtræf Danmark (Danish Design Fair) and asked me to look at the color scheme of some existing telephone types.
My experience in working in other colors than bright colors comes from my co-operation with my wife on clothing design.
Here the design work may be based on a fashion color.
---