Stories from ear to eye
(in Danish click here)
You try to imagine how it will be to be together with and work with a group of refugees in an Red Cross Center.
This week there has been there has been 14 art workshops.
Each refugee has chosen which art workshop he or she would like to attend.
My art workshop was defined as follows:
"In January 2002 I will be a Visiting Teacher in a project called "Stories, from ear to eye" where I will inspire refugees to create a huge sculpture and make an exhibition of this sculpture. Then they are artists, not refugees. At the same time I will interview these new artists about their lives, print these stories and put them inside the sculpture. The stories will be presented in an e-book on my web site and preferably on Red Cross' web site too.
My idea is to make a huge sculpture in simple shapes and bright colors, an optimistic sculpture and put the refugees' bad memories inside the sculpture. Not to forget their past, it can not be forgotten, bud to make a emblem in their minds, which will pop up before or at the same time as the bad memories. The e-book will be illustrated by a lot of pictures of the genesis of the sculpture. The sculpture will be built of water proof materials in order to be exhibited outdoor later.
I know these are high ambitions, but that is what art is for.
A part of the project is of course to communicate this vision to the Danish Society - that is why we make the exhibition. Jørgen Chemnitz, Red Cross Denmark and The Chairman of the Cultural Board Bent Martinsen, Randers Municipality will be asked to open the exhibition."
See my drafts of the sculpture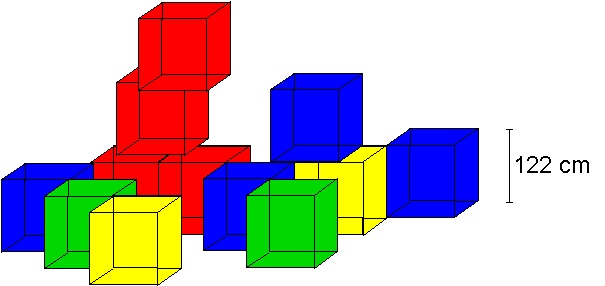 Materials:
Wood plates 244 cm x 122 cm x 1,5 cm x 3 per box x 12 boxes
Wood laths 1,22 m lath x 8 each box 12 boxes (later altered to 12 lathes per box)
Painting (1,22 m x 1,22 m) x 6 surfaces x 12 boxes (twice)
Glue, screws etc.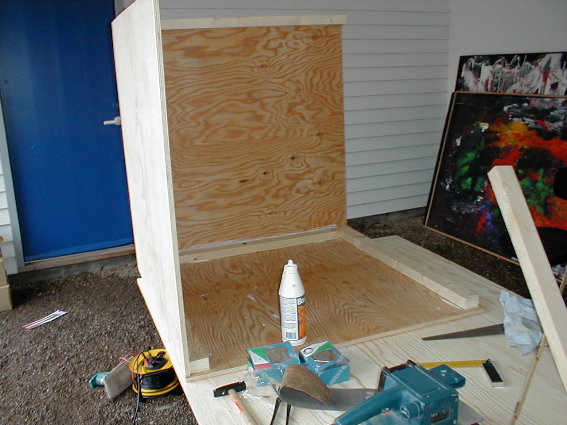 To assure myself that these boxes were not a figment of the imagination
I have made one sample box.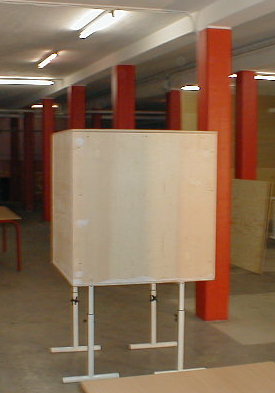 The result showed that it was possible to
produce a durable box as a part of a huge sculpture.
Some alterations of the design however was made, the box became to big in size 122 x 122 x 122 cm and the size was altered to 100 x 100 x 100 cm. Some procedures was altered too.
The day of workshop start was 14th January 2002.
4 young lads fully fitting the media's descriptions of young refugees
entered the peristyle where the workshop was to take place.
Elvis was the name of the most noisy, loud screaming and with a self promoting attitude.
Abazi was the name of another young lad with the sun glasses placed in the neck to look cool.
3 giggling girls stood in a corner by themselves.
Then came 9 men. Yes, this was the place where the sculpture workshop should take place.
They entered quietly, they had a wait and se attitude but without skepticism.
Morten and I had made drawings of the construction.
_________________________________________________
Instruction in constructing the sculpture
in general
Each box is made out of 3 wood plates of the size 1,5 x 122 x 244 cm.
Use the 2 templets in 3 mm paperboard, one templet size 99,9 x 99,9 cm to the button, top and sides, that is 4 parts, and one templet of the size 99,9 x 96,9 cm for the two ends.
For each box you must use 8 latches size 82,5 cm and 4 latches of the size 100 cm.
From the edge of the wooden plate to the lath there must be 1,5 cm to make room for the sides.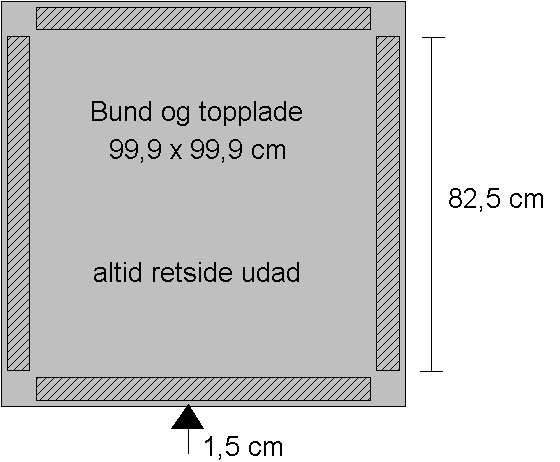 Translations:
"Bund og topplade", button and top plate
"altid retside udad", always the right side on the surface of the box
___________________________________________________________
Assembling and plates and lathes
You must use 16 screws on all sides. Use the screw machine.
That is 96 screws to each box.
Remember: A layer of glue Bostik Super Trälim 730 UTE between plates and lathes.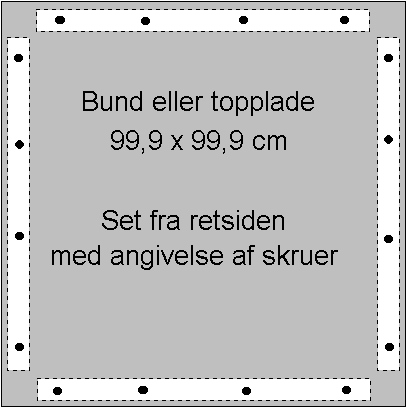 Translations:
"Bund og topplade", button and top plate
"set fra retsiden", seen from the right side
"med angivelse af skruer", number and placement of screws
_______________________________________________________
Assembling of sides and ends
As the button has been assembled and the glue is dry, you can assemble the sides and the ends.
Use 4 lathes size 100 cm as posts in each corner.
Remember that the right side becomes the surface of the box.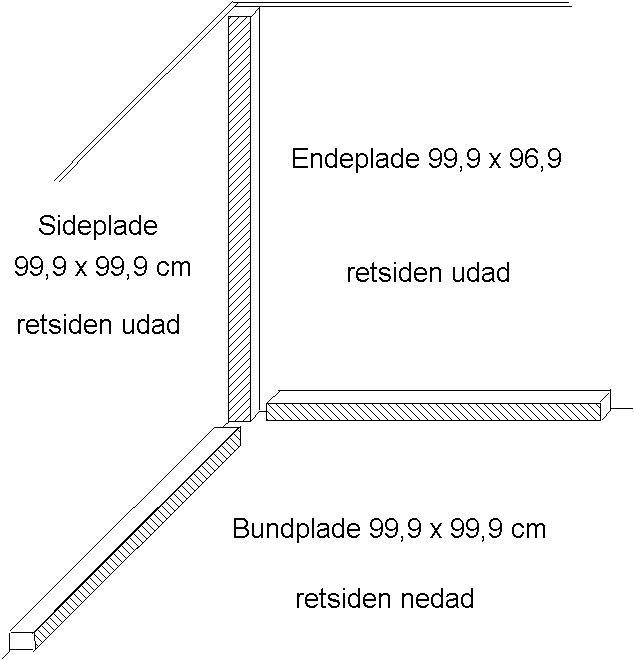 Translations:
"Endeplade", end plate
"Sideplade", side plate
Bundplade", button plate
"retsiden udad", right side out
"retsiden nedad", right side down
__________________________________
Filling and painting
You fill with Åffa Universal filler.
Most important is to fill where the plates are assembled.
All edges are painted one extra time with painting Hygæa Træ & Facader gloss 10.
All sides of the box is painted twice with the painting Hygæa Træ & Facade gloss 10.
Best regards and enjoy the work
Morten and Asbjørn
__________________________________________
Thursday 24th January 2002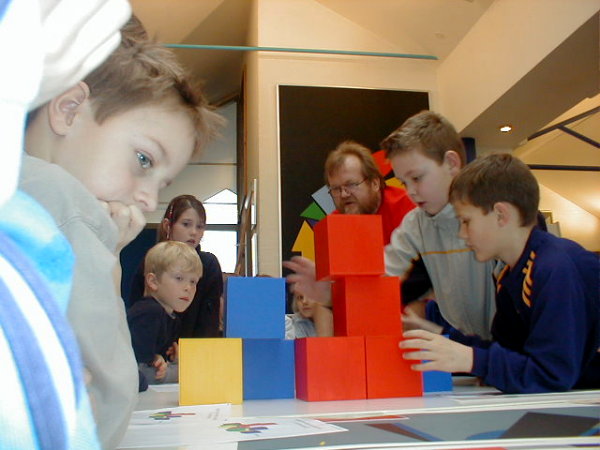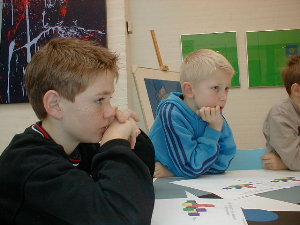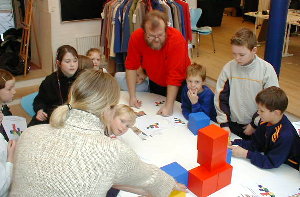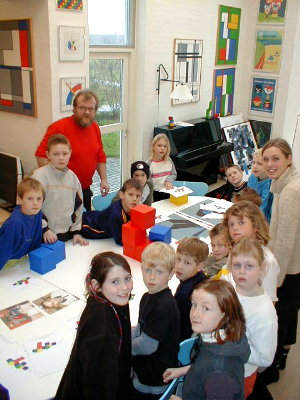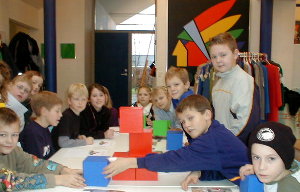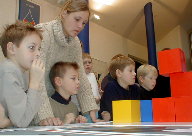 Back
in my studio, gallery and private home in Hedensted I got a little help from my friends.
Second grade from Stjernevejens school was working with geometric shapes in
art classes.
They visited me on a rainy Thursday.
18 pupils and 2 teachers built the model.
I think it is beautiful.
The sculpture is ready for exhibition.
I believe we all had a splendid day in spite of the weather.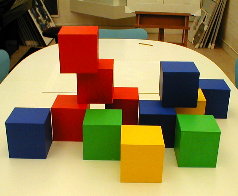 Yes, it is beautiful.
But as we looked at it from behind the two red boxes on the ground had to be separated and displaced.
Suddenly an exit appeared.
An exit of a labyrinth?
Or an entrance?
For sure you have to bend down and even crawl on your knees to get through.
Have I heard this story before?
Last News:
Morten and I will accept a wish to remain anonymous and a wish not to be on the Internet or not even in the boxes.
Of course
Saturdays I red an article in my local paper about a Dane who had been in a German work camp during World War II.
Never before he had been able to tell or write about his traumatic experiences in Germany.
To most refugees it is however important to write down their more or less traumatic stories.
Only one self knows when.
Today Tuesday 22nd of January 2002, I was in Randers to make the last preparations before the sculpture is moved.
A refugee, not one from our group, not one the girl, not one the lads, not one of the men, came to me and asked if he might tell his story and have it put into the boxes and on the Internet.
Fridays Morten and I talked to an Iranian refugee that might be interested too.
Morten is class teacher 8th grade of refugee children. They want to be in too.
Then we had this idea:
every refugee in the world, who want to join our art work can do so.
Just write your story an e-mail it to refugee-stories@post3.tele.dk.
Then we will print it and put it into the boxes and put it on the Internet.
Do not hesitate to do it in your own language even if our e-book is in Danish and English only.
So far.
Sooner or later someone will read your story and interpret it into Danish or English and e-mail the translation to refugee-stories@pots3.tele.dk.
Then your story is on the Internet in your own language and in Danish and English.
Remember this:
Our art work consists of a combination of the sculpture and this e-book.
And
if you join the creation of our art work by sending your story or a translation of one already in the e-book
you yourself
will
become an ARTIST.
Sincerely yours,
Asbjorn Lonvig, artist
"Lille Fejringhus"
Hedensted, Denmark
Click here to see the e-book about the project from start to finish.
_____________________________________________________________________
The exhibition of all the 14 projects and the sculpture
takes place
Monday 28th January to Friday 1st February 2002
10 a.m. to 5 p.m.
in arts center "Underværket" in Randers, Denmark
Grand opening Monday 28th at 11 a.m.
Everybody must come.
..........and we gather the young lads and the men, Morten and Asbjørn
sunday 27th of January 10 a.m.
to transport the boxes from the Red Cross Center to "Underværket".
Morten has rented a truck. We want to be sure, that the boxes are transported safely and are not harmed in any way.